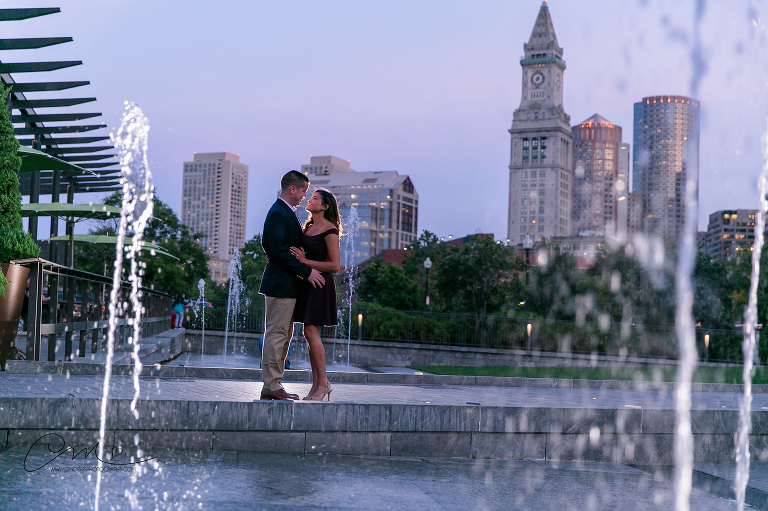 The North End of Boston is so much fun. I have been going down there for years now and have created a "Route" for my engagement sessions. I never actually really know where we will end up or if my shoes will come off so I can do something crazy (jump in a water fountain, for example) but regardless, we always make it an adventure!
Meet Gabriela and Reid. I met them for the first time on a obnoxiously cold March day at the beginning of the year. They came up to my studio in Manchester, New Hampshire and we talked about their wedding which is planned at the Wolfboro Inn in the Lakes Region of New Hampshire. Another one of my favorite places.
Gabriela and Reid heard about me through a friend. I had photographed the gorgeous wedding of Hannah and Tate back in 2015, which I actually blogged (crazy, right?) and here is the link: Hannah + Tate. 
So we decided to meet up earlier this month (September 11th to be exact) in the North End of Boston. I always tell my clients to choose a location that is important to them and we can see if we can make it work out. They actually live right in the north end, so it was meaningful and again, I love it down there so this was a no brainer. We stopped in as many locations as  we could find, took tons of photos and had a great time.
We ended in a water fountain.. but before getting there we stopped at Christopher Columbus Park right on the waterfront. Reid and Gabriella got engaged there so we did spend a bit of time making sure to capture this time in their lives.
Congrats again to both of you! Here are a couple of my favorite images from the evening: